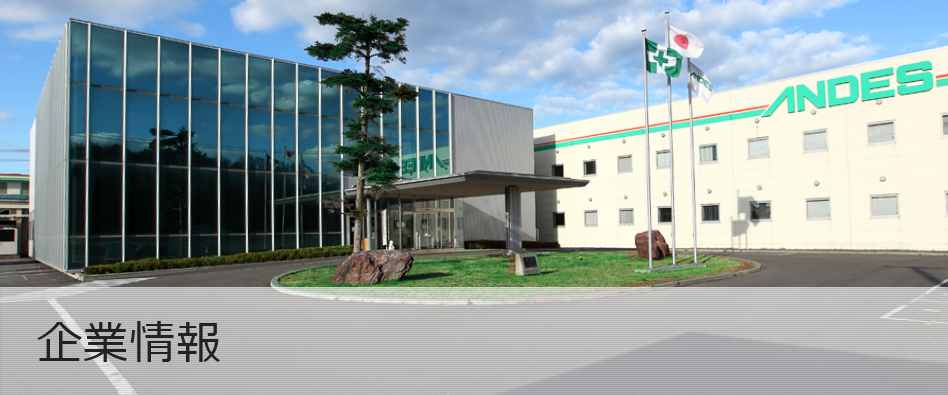 Management Concept/ Greeting
Management Concept
We will contribute to the society through providing our cutting-edge technologies based on wisdom of the many management and take every effort to make our company full of dream and worth working for the workers.
-. We will achieve our goal with our flexible conceptions and actions.
-. We will develop our company based on our technologies with full of originality and aim at becoming the many-sided enterprise.
-. Standing at the global view point, we will take advance steps with our well-proven ideas and developing capability.
-. We will be on satisfaction through our effort to achieve business success and try to realize comfortable life and happiness.
Greeting
I would like to express my heartfelt thanks to everyone who has given deep understanding and great help for us since our foundation. We, Andes Electric Co., Ltd., have focused to our mission of "Monozukuri (which means all aspects of manufacturing)" with all our heart and mind under the spirit of our corporate motto- "We will contribute to the society through providing the cutting-edge technologies". We will take every effort to make our company dependable to our domestic and overseas customers with meeting or even exceeding the wide range of our customers' needs based on our solid technologies.
We are faced with the challenge of today's dynamic business environment and growing tense with the growth of globalization, energy resources problem and unstable world economy. To meet this challenge, we, Andes, will work harder than ever to provide our comprehensive capabilities ranging from initial design conception right through to full production and sales promotions in our three mainstream of business functions – Optoelectronics Division producing Color Filters and Touch Panels, and Electric Device Division specializing in producing surface mounted boards used for electronic products, and Environment System Division producing air purifier related products.
Taking advantage of our key technologies – "Photolithography", High-frequency engineering, Air purifying technique developed based on our technologies and manufacturing know-how cultivated since our foundation in June 1971, we will concentrate our energy to the research and development with leveraging and developing these technologies for further growth. In order to furnish our fine response to customer's needs, we will try to join our mutual corporation to achieve differentiated value creation which might give people not only Monozukuri but also Monogotozukuri (to create not just products but to provide wonderful opportunity to people). We think it is very important to develop human resources with full of challenging spirits to achieve our ambitions.
We thank you for what you have done for us and look forward to even better relations with you in the future.
Andes Electric Co., Ltd.
President
Toshiyuki Yasuda